tl;dr - What I planned to do and What I've done
The plan was:
Try new way to get leads - DONE! 65 leads in overall (+45 in a week)
Prepare release plan - done
Set up course platform - mostly done but with pivot
Record 1st module - in progress, done the presentation
---
1. New Leads - using super power 🦸‍♂️
Got +45 new leads this week 💪 Without spending any $ for ads! Finally found a good way to do that. I just use my super power.
What are the super powers?
Super powers are skills that you already have, sth that you mastered or you just good at. For example: some of you know that I'm also running the hikers community "Hikers Club PL", we've got discord and weekly newsletter with hiking trails and news. Most of leads for that hiking newsletter comes from desire of beeing up to date. People even don't want next Lead Magnet. They want to get good quality news, promise of that is just enough to subscribe. I know that. I'm also good at research such news. So why I didn't start with sth simillar in dev community? Thats a good question! Instead, few weeks ago I created LM with video and spend some money on ads, that weren't successul. Do you get it already? I've got a super power of running weekly newsletter based on news and if I used it on the begging I could have even more leads now. Luckily I've made a pivot and switch my leads generation strategy. And it works like a charm.
Lesson Learned
Identify your super powers at the beggining. Even write them down. Write down every thing, every skill that you good at, every valuable contant that you have. Then THINK how those skills or contacts can help you with your business and use them!
---
2. Prepare release plan 🚀
I've added tasks that I need to do to fully release the course. You can check it below on the screenshot. As you can see I'm on the 22% and that's great. I want to start the course on 05.09.2022 and I think I'll be on about 50% progress till then. Is that ok? YES! The rest of the course and details will be done after official start.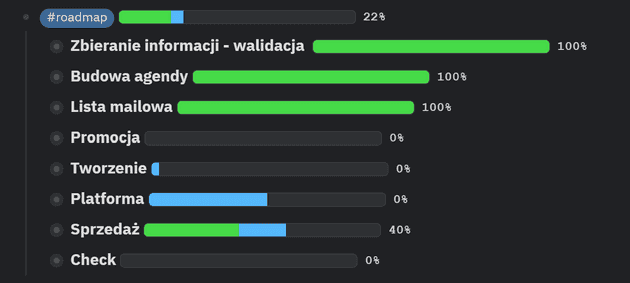 ---
3. Set up course platform
Last week I wrote about testing WebToLearn platform and I continue to do it this week. I also want to set up this platform because I see how much options it has. I sit down one day and try to set it up without any manual, I saw that they send me few emails with video instructions but you know how it is, who use the instruction first? 😅 I quicly realized that I'll fail with doing it without any help. The menu is so big with so many options that without any guidance it really hard to set up quickly. So I watched few videos for their site, but digging deeper and deeper I quickly found out that the platform is to much complicated for me. I want sth simpler! And I found Skyier also Polish course platform but so much simpler! I set up base configuration without any guidance! And it didn't take long! Thats what I was looking for. For now I stay with them, will see how they'll perform with full course on it, but for the start should be ok 💪
---
4. Record 1st module
Plan was to record first module, but I get sick and few days were totally unproductive. But what I've done is presentation that I use in course video. So I rdy to record 1st module and the plan is to do that this week.
---
Finance and Tools
Tools:
Canva - Creating graphics
Screencast o matic - Recording video
Mailerlite - Mailing and landing page
Youtube - Hosting for lead magnet video
Fb Ads - Ads
WebToLearn - for course hosting - testing Skyier.com
Fakturownia - Invoices
Webinarkit - Webinars
Finance: Spent (from start):
Ads: 233 PLN
Screencast o matic - 28 PLN
Webinar Kit - 380 PLN
TOTAL: 641 PLN
Leads: 65 email addresses.
Plans for next week
Record 1st module
Prepare for next module recording
Make sales landing page
Configure invoices and integrations
---
The motivation to start such a project was holiday contest organized in one of the communities I'm part of. It's called Firestarters: https://transparentworld.pl/firestarters/ the polish community of entrepreneurs
All for now! Have a nice day and see you soon! Jacob